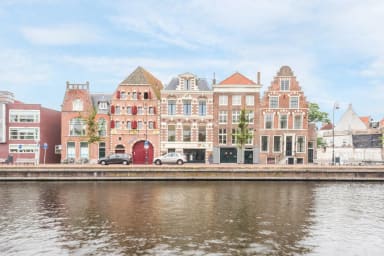 Spaarne Luxury Residence Haarlem
Apartment in Haarlem,
AL License nr.: 0392 34D4 4A3E 7E41 B658
---
4

People

2

Bedrooms

1

Bathroom

100m²
Luxury and spacious 2 Bedroom Apartment beautifully located at the Spaarne. The perfect place to have a romantic city trip or family holiday.
The space
This is the perfect residence for a family trip to Haarlem with a view over de Spaarne river. The characteristic accommodation features 2 private bedrooms with double beds (one piece), a bright and spacious living and a full equipped kitchen to cook up a feast.
Guest access
Guests have access to the entire property.
★ Privacy and space
★ 100 square meters
★ 2 bedrooms, 1 bathroom and 1 toilet
★ Please note this residence has multiple steep staircases
★ Wifi and television (only Netflix)
★ Linen and towels are provided
Guest interaction
This home is in the hands of Rental Valley, a property management team who work hard to make sure your stay is smooth and comfortable! We are available should you have any questions or requests during your stay.
From one week before arrival we'll send you our rental guide. This holds all useful information to help you arrive safely and much more. Please read it carefully before your arrival and let us know if you need anything or have any questions.
The neighborhood
Haarlem enjoys a perfect location, within 20 minutes of Amsterdam and with the beach as its backyard. It is not surprising that Amsterdam's little sister is popular with both locals and visitors. From Haarlem, you can enjoy the fabulous Zuid-Kennemerland National Park, stunning country estates, seaside and Spaarnwoude recreation area. Not to forget the colourful Bollenstreek (Bulb Region) and Keukenhof gardens just around the corner.
Getting around
Close to Haarlem station and a good starting point for excursions to Amsterdam (only 20 minutes by train), Keukenhof or Zandvoort beach (10 minutes by train).
Getting to and around Haarlem by public transport is quite convenient. Schiphol Airport is well connected by train and will take you about 30 minutes. The capital city of Amsterdam and Zandvoort beach are both only 15 minutes away. We will share a handy website to plan your route.
By car the airport is about 20 minutes and Amsterdam 20 to 30 depending on your exact destination.
Paid parking is possible at Parking De Appelaar at Damstraat 12
Other things to note
➤ Check-in time: 3 - 10 pm
➤ Check-out time: before 10am
+ More
Less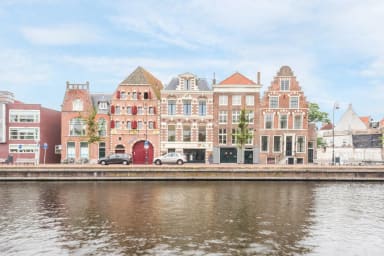 The Space
Accommodates: 4
Bedrooms: 2
Bathrooms: 1
Property Type: Apartment
Check-in: 15:00
Check-out: 10:00
---
Amenities
Suitable for children (2+ years old)

Suitable for infants (under 2 years)
Reviews
Hidden fees and bad cleaning

We tried a new booking site for the first time since Airbnb isn't too big in Holland - I guess. As soon as we booked we received mails from different companies and had to download an app so we could find the booking etc. After having paid we received another mail saying we had to give our creditcard details we they needed to pay for damages or something like that. That was 1 EUR to do that. I know it is only 1 EUR but if they do it to thousands of people daily it is a good business. It said in the confirmation that we could check in no later than 22.00 or else we'd have to find a hotel. We drove from Denmark so we tried to plan arrival no later than 22. Around 21.00 we received a text saying we couldn't check in no later than 21.30. I tried to call the number but it was disconnected. We arrived to the destination and rang the doorbell. It is a big house and apparently there are two apartments in the house. We mistakenly rang the owners side. He was kind and told us where to pick up the key since he has a company organizing things for him. Picked up the key and entered the apartment. Old place but good enough. Unfortunately cleaning hadn't been too good. We found a ball of hair near the sink in the bathroom, pubic hair on a bath mat, more hair in the shower. When we went to bed I found more hair on the pillow. I know it won't kill us but it is a bad start on the stay. I took pictures and sent them right away. Answer from the company was fast and they replied that it is human to fail - I agree. But there was a lot of hair and any inspection would have seen it. The office tried to make jokes about it - I know with good heart, but still. We had a good stay and we were perhaps unlucky....

October 2020

---

David B.

Muy recomendable

Es un apartamento con preciosas vistas y muy bien amueblado . Solo tiene un problema las escaleras típicas del pais

October 2020

---

Sehr schöner Aufenthalt in Haarlem, vielen Dank!

Bessere Air-Condition und Fenster zum öffnen wären optimal.

September 2020

---

---

Amazing apartment

The apartment is really nice and spacious with excellent view.

February 2020

---

Typically Dutch

The stairs to the apartment are typically Dutch. Once up there the layout, position, and views are excellent. Plus it was very quiet. It is clean, warm and comfortable and there was a good supply of kitchen wares. We would definately stay again.

February 2020

---

Amazing típical house at Haarlem

We spent a few wonderful days!! Thanks for all!

January 2020

---

Ein langes Wochenende

Die Unterkunft war wirklich schön. Der Ausblick von oben auf Spaarne und der Umgebung wirklich toll. Der große Wohnbereich mit dem offenen Dachstuhl ist sehr gründlich. Bis auf die Toilette die ist sehr gewöhnungsbedürftig 🤷‍♂️ Nur das Treppenhaus stinkt nach Abfluss .

January 2020

---

Such a wonderfull place

From the moment I checked in in the appartment i fell in love with it!Such a Beautifull authentic building in a great shape.Perfect location, clean, and everything you need to make your stay perfect.

December 2019

---

Spaarne 90, Haarlem 2 bed apartment

Great apartment, close to centre of Haarlem and all it has to offer Only issue is the steep stairs which will be impossible for some Would stay again

December 2019

---

Sehr schönes Apartment mit erlebnisreichen Treppen

Das Apartment ist großartig gelegen. Mitten in der wunderschönen Altstadt direkt an der Spaarne mit einem fantastischen Blick. Die Einrichtung ist etwas ins die Jahre gekommen und die Küche recht spärlich ausgestattet. Aber gemütlich und geschmackvoll. Es ist zentral aber angenehm ruhig. Leider hatten wir ein offenes Rohr, was einen unangenehmen Geruch hatte. Die Treppen im Hausflur und im Apartment sind weder Kinder-noch seniorengerecht. Es gibt teilweise kein Geländer und das Gepäck zu transportieren ist mühsam. Es gibt keine Ausstattung für Kinder, kein Geschirr, Hochstuhl oder eine Sicherung der Treppen. Für Paare oder Gruppen ist das Apartment schön. Das große Schlafzimmer unter dem Giebeldach lässt einen sehr gut schlafen.

November 2019

---

Pierre M. (

United Kingdom

)

Great location

Beautiful views and really close to the center of the town with many restaurants to choose. I will stay again. Glassware not adequate and would have been nice if some coffee capsules left for first morning .

October 2019

---

Janet F.

Janet Fitzsimmons

It was a lovely apartment, spacious and modern

October 2019

---

Jake G.

Good Place

Easy check in check out apartment was clean and comfy.

October 2019

---

3 nights at Spaarne Luxury Residence

Very good location, no problem getting the key. Instructions once inside were clear. Upstairs bedroom gets a bit cold as the window could not be shut properly. Downstairs nice and cosy. Coffee machine without any capsules, only oil and vinegar in kitchen, no salt/pepper etc.. Equipment ok. Lots of crockery and cutlery. Toilet paper a bit scarce. Stairs could be a problem for either elderly people or people with heavy luggage as the first stairs are more like a ladder (160% rise). Lock to door of flat was a problem as the cylinder keeps shifting. Also the bathroom handle came off one morning and one had to be very careful coming downstairs from the upstairs bedroom as one could easily fall through the gaps. I would recommend a safety net there. The restaurant where we picked up the keys were very helpful in allowing us to leave the luggage there on the day we left until we had to leave for the airport. For us the apartment was ideal - quiet, great location and lovely view. We would definitely come back.

September 2019

---

Great location, lots of stairs

Perfectly located near centre of Haarlem, with a lovely outlook over the Spaarne, and at the back over nearby neighbourhood - however we were not warned about the very steep stairs to this apartment which i think should be mentioned in the information somewhere, very hard to drag a heavy suitcase up! Rooms were quiet and comfortable, with an extra study room which was handy, and a nice dining table and lounge area. But there were chipped glasses & one cracked mug, not expensive to replace these and it would be a better look. The armchairs are very worn & feel a bit dirty. Seperate toilet and a washing machine. 2 Parking stations nearby, one has a stunning rooftop bar/cafe with a great view on the roof. Easy wifi access, we had breakfast at Teds which has just opened next door, excellent! Overall very comfortable & convenient place to stay.

September 2019

---

David T.

Superbly located comfort on the Spaarne in Haarlem

This is a lovely apartment in a fantastic location for exploring the centre of Haarlem by foot. It's super quiet at night and the beds are very comfortable (being decently firm which we prefer). A good size for Holland and ideal for a family or two couples. Just a couple of points to note; the staircase is very steep (even by Dutch standards!) so not suitable for folks with walking issues and whilst there is a washing machine, strangely there is no dryer which is pretty inconvenient. Otherwise well equipped and feels like home from home. Recommended.

September 2019

---

Robin B. (

United Kingdom

)

Mrs R. Baker

Excellent apartment in a beautiful location. Well equipt. The instructions for key collection very straight forward and gave us the introduction of aan excellent place to eat. The stairs are a challenge but we only had to climb them once a day to go out and once to come back. We were all in our 70's and one 80 year old and we all managed them. With young children it would be a challenge.

September 2019

---

Frans L.

Spaarne 90 - Haarlem

Only downside is the steep stairs to get to 3th floor. Location is great, appartment nice & clean, the beds perfect!

August 2019

---

---

Gute Lage, ruhige Schlafzimmer

Lees perfekt, viel Platz

August 2019

---

Absolut angenehm!

Wir waren Anfang Juli 2019 in Haarlem - und diese Unterkunft als Ausgangspunkt war unbedingt empfehlenswert. Dass es sich um ein altes Grachtenhaus handelt, war bekannt - insofern keine Überraschungen, die ein Vorgänger im Kommentar vermerkt hatte. Die Lage ist ausgezeichnet, das Haus vollkommen passend und auch sehr ruhig in einer Top-Lage! Wir waren begeistert! - Außerdem war die Abwicklung rundherum problemlos.

July 2019

---

Alles wunderbar!

Die Lage, der Charme des alten Hauses - es hat uns sehr gut gefallen! Jederzeit wieder an den Flüsse spaarne und in diese wunderschöne Stadt.

July 2019

---

Luxury geht anders

Lage top, um die Stadt zu erkunden mit herrlicher Aussicht auf die Spaarne Das Appartment ist dringend renovierungsbedürftig. Flecken auf dem Teppichfußboden und den Sitzmöbeln. Da gibt es modernere pflegeleichtere Fußbodenbeläge. Sehr steile, 3-fach gewundene Treppe hoch ins Appartment. Fensterarretierungen teilweise zerbrochen. Fenster benötigen Keile, um geöffnet zu halten.

July 2019

---

Sebastiaan B. (

South Africa

)

Discovering Haarlem

After collecting a key some 100 meter up the road, we finally figured out that the apartment was not no.90 up the small steps , but a smaller door no.90 to the right, this was not clearly marked . 40 steep steps with heavy suitcases was a feat to get up .Needless to say that my son Brendon nearly concussed himself on one of the beams leading up the staircase. The view from the apartment was quaint , these was a slight mouldy smell which was understandable given the age of the building . Otherwise very comfortable after figuring out how the heating system worked . It was spacious, clean, and conveniently close to all the sights in Haarlem.

June 2019

---

Stephanie D. (

United States

)

Charming apartment in convenient location

Spacious, modern apartment with beautiful view over the Spaarne, just a short walk from Teylers Museum, Frans Hals Museum, shopping district and main square. Comfortable beds and living area. Good internet and kitchen facilities. Friendly owners. About 15 minutes' walk to train station. 300 bus to and from Schiphol Airport stops about 10 minutes' walk away on Gedempte Oude Gracht (travel time to airport approx. 35 min.). North American travellers should note that this apartment is located at the top of a typical Dutch staircase: very steep! Also, for mid-summer travel, note that there is no air conditioning and not all windows open easily. (Dutch weather is rarely very hot.) We enjoyed our visit and would happily stay here again.

June 2019

---

Séjour agréable

Haarlem est bien situé proche d'Amsterdam et de la mer. C'est une ville très agréable. L'appartement est bien situé avec une vue dégagée, proche des boutiques, restaurants, de la gare; Il est bien équipé mais le canapé et les fauteuils mériteraient vraiment d'être remplacés.

May 2019

---

sejour a haarlem

tres bel appartement sur la spaarne. haarlem ville tres sympathique, charmante toute proche d amsterdam

April 2019

---

Lara C.

Heerlijk ruim en licht appartement in hartje Haarlem

Dit appartement is echt een aanrader. Het is ruim, licht, schoon en heel centraal gelegen. Het uitzicht over het Spaarne is prachtig. Prima voor gezin of 1 of 2 stellen.

April 2019

---

Vincenzo T.

Great base to jump off and discover the beautiful surroundings

We had an excellent stay at the apartment, which was a pleasure to come home to every night. Well located, excellent location, tasteful decoration, complete arrangement with nothing missing, peaceful, comfortable in any sense, we enjoyed every moment. Thanks for letting us stay at your apartment. We would love to come back soon also as Haarlem was such a great positive surprise as a city complementing our visits to Amsterdam in the best way possible!

April 2019

---

Mike

Very nice. I will recommend to my friends

March 2019

---
Show more