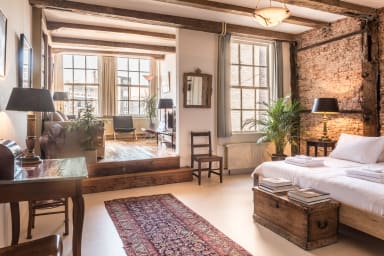 Classy Room 17th Century Canal House
Studio in Amsterdam City,
AL License nr.: 0363 3223 E976 5314 BBB1
---
2

People

1

Bedroom

1

Bathroom

50m²
Private double room in a canal house dating from 1608 situated on Singel Canal in the oldest part of Amsterdam. Centrally located.
Space
This private room available for the exclusive use of the guests is just like an apartment without a kitchen; the room is situated on the first floor at the front of the house. This Airbnb-space includes a large bedroom with exposed oak beams and an authentic brick wall.
Bathroom:
Adjacent to the bedroom is your private bathroom (with shower, sink, mirror and toilet) for the guests only. Please note that there indeed is a shower in the bathroom, but no bath! In the room itself, there is a double bed consisting out of 2 latex mattresses each measuring 90 x 200 cm. Please note that the bed consists out of TWO single mattresses measuring 90 x 200 cm and not out of one double mattress measuring 180 x 200 cm.
Heating in the room: There are two large radiators in the room located beneath all of the windows and one can adjust the temperature in the room by turning the temperature-knobs on these radiators.
There is also a sitting area with a couch, 2 chairs, cable television, a DVD-player, internet using Wifi as well as internet by the use of a cable. There are lots of books, mostly in the English language on various topics and a computer-desk in the study corner with a chair; a 'laptop friendly workspace' in case you need to get some work done.
On the booking platforms this space cannot be called an apartment because the space does not include a kitchen. However, there is a coffee machine and a water kettle to make hot beverages. There is a small refrigerator for your convenience as well as cups, glasses, plates and cutlery.
Sheets and towels are 60° Celsius cleaned.
The surface area of the space is ± 50 m2.
Trains, buses and metro are within 5 min. walking distance.
My two cats 'Lucas' and 'Snout' do not enter the guest space on the first floor. This private room is cat-free.
Access
This private room is situated on the first floor at the front of the house and can be reached by entering the house through the main door, going up the stairs to the first floor. There is no elevator. The stairs are steep. See the photograph of the stairs in the picture-portfolio. Elderly people and people with limited ability need to be aware of this.
➤ Please note that it is not allowed to arrange photoshoots at this accommodation.
Interaction
Usually I am around, only on some days of the week I work outside of the house; usually on Tuesday-, ~Wednesday- and Friday-afternoon. Normally I am around and always reachable via telephone, sms, WhatsApp and e-mail. Please feel free at all times to knock on my door in case you need assistance. I live in the same building. My quarters are situated on the ground floor, which is the floor above your room and one room on the first floor of the house. Please note that music, noise and the like must be taken into account because of guests staying in the upstairs guest room.
During the day I occasionally will have a violin student come for a lesson, so you may hear some violins playing in the background.
Neighborhood
Amsterdam is one of the greatest small cities in the world. From the canals to world-famous museums and historical sights, it is one of the most romantic and beautiful cities in Europe. Cruises on the canals are a popular way to see the city from a different and unique perspective
Welcome to the city of tolerance and diversity. It has all the advantages of a big capital: rich culture, thrilling nightlife, international restaurants, good transport - yet quiet in road traffic. In this city, your destination is never far away!
In my neighborhood, there are lots of things to see. I live in the oldest part of Amsterdam.
There are restaurants, shops, several organic food shops ('Ecoplaza' on Haarlemmerdijk 160-164 and 'Marqt' on Haarlemmerstraat 165) and museums.
Two nearby launderettes/laundromats:
*The Wash Company (Haarlemmerdijk 32) and
*De Haarlemmer (Haarlemmerstraat 45).
Two nearby supermarkets:
*Albert Heijn: Nieuwe Dijk 182 (really really close) and
*Albert Heijn: Haarlemmerdijk 1
Bike Rental:
*King Bikes - Bike rental
Spuistraat 1C - 1012 SP Amsterdam
*MacBike at 'Centraal Station'
Stationsplein 5
*Bike City - Bloemgracht TL Amsterdam (near the Anne Frank-house)
*Rent A Bikey - Binnen Wieringerstraat 3 - 1013 EA Amsterdam

*Rent A Bikey - Haarlemmerplein 33
*Frederic Rent a Bike
Brouwersgracht 78
*Yellow Bike | Bike Rental
Nieuwezijds Kolk 29
*Black Bikes | Bike Rental Amsterdam
Nieuwezijds Voorburgwal 146
*Het Zwarte Fietsenplan
Nieuwezijds Voorburgwal 146
*Starbikes Rental
De Ruijterkade AC Amsterdam
Wine and beer and spirits:
Chabrol
Haarlemmerstraat 7
Movietheatre 'The Movies' on Haarlemmerdijk 161.
Westerpark, where you can walk, go jogging, relax.
Working out: There is an excellent gym called 'Squash City Amsterdam'. Address: Ketelmakerstraat 6 - 1013 DE, where they have a large selection of equipment to work out with, a sauna and steam room, a squash area and a restaurant/bar/lounge area. Highly recommended gym!!!
Restaurants:
Restaurant Van Speyk
Spuistraat 3-A
1012SP Amsterdam
Ibericus: Bar/Shop
(Produce from Spain)
Haarlemmerstraat 93
1013 EM Amsterdam
Café Louis
Singel 43
Amsterdam
Indonesian Restaurant 'Long Pura'
Rozengracht ND Amsterdam
Café 'De Oranjerie'
Binnen Oranjestraat 15
Restaurant Moeders
Rozengracht 251
Restaurant De Luwte
Leliegracht DG Amsterdam
Café Restaurant De Reiger
Nieuwe Leliestraat 34
1015 ST Amsterdam (Jordaan)
Restaurant Seasons
Herenstraat 16, 1015 CA Amsterdam
Brasserie Luden
Spuistraat 304-306
Amsterdam
Restaurant d'Vijff Vlieghen ('The five Flies')
Spuistraat 294-302
Amsterdam
Restaurant MAX Amsterdam
Herenstraat 14
1015 CA Amsterdam
Eetcafe Rosereijn
Haarlemmerdijk 52
1013JE Amsterdam
Cafe-Restaurant Greenwoods (for breakfast and lunch!!)
Singel VG Amsterdam
Café Restaurant 'Stout'
Haarlemmerstraat 73
1013 EL Amsterdam
Museums
*Royal Palace + New Church: Dam square
*Anne Frank House: Prinsengracht 263-267

*Van Gogh Museum: Museumplein 6
*Stedelijk Museum: Museumplein 10
*Rijksmuseum: Museumstraat 1
*Museum Van Loon: Keizersgracht 672
*Bible Museum: Herengracht 366
*Amsterdam Museum: Kalverstraat 92 // Luciënsteeg 27
*Museum Willet-Holthuysen: Herengracht 605
*Museum Ons' Lieve Heer Op Solder: Oudezijds Voorburgwal 38
Concert Halls
*Concertgebouw: Concertgebouwplein 2-6
*Muziekgebouw aan 't IJ: Piet Heinkade 1
Transit
At short walking distance from my house (5 min. walk) is the Centraal Station (central train station) where trains can get you to other cities in Holland and from where trams and buses and the metro can take you anywhere in the city.
As a capital city, it is very easy to reach from Schiphol Airport and to get around by public transport. Trains, buses and trams will get you to your destination in an efficient way. Even better for short distances and a local experience is of course by bicycle!
If you want to travel to other cities and places, normally public transport is also very convenient depending on the location of your plans of course. We will share a handy website with you to plan your route!
Notes
When you are here I will always explain to you the use of the emergency-exit; on the round bedside-table, there is a key to the window next to the bed. This is your most efficient emergency-exit. Put the key in the lock on the window, the lock will open, open the window and you climb/jump on the roof below. It is very easy.
I live in the same building. My quarters are situated on the ground floor and one room on the first floor on the rear side of the house.
During the day I occasionally will have a violin student come for a lesson, so you may hear some violins playing in the background.
It is important for guests to realize that this private room is situated in a house in the very centre of Amsterdam in the middle of the hustle and bustle of the old city, a house more than 400 years old. This means that the levels of sound isolation required for modern buildings cannot be met without eliminating the charm and character of a 17th Century house. In other words: the sound-isolation in this house is not ideal.
On the floor above the guest room, live the upstairs neighbors. They are two professionals sharing an apartment. They try to be quiet because they are aware of the fact there is a guest-room below them.
➤ Check-in time: 3 - 10pm
➤ Check-out time: before 11am
+ More
Less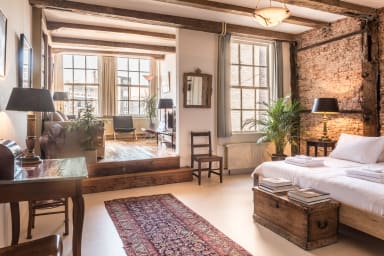 The Space
Accommodates: 2
Bedrooms: 1
Bathrooms: 1
Property Type: Studio
Check-in: 15:00
Check-out: 11:00
---
Amenities
Laptop Friendly Workspace
Reviews
Relaxt en sfeervol

Fantastische plek, sfeervolle inrichting en uitstekend verzorgd!

December 2020

---

Mini holiday in our own city!

We're a Dutch couple and one of us lives in Amsterdam and the other had lived here for a couple of years as well. We wanted a mini holiday in our own city for my birthday and this house was the perfect place for our weekend! The house is indeed a typical Amsterdam Canal house and the room was exactly as in the pictures. Evert, the owner, is extremely friendly and if you're lucky you can hear one of his students play the violin.

October 2020

---

Parfait séjour

Parfait séjour, l'appartement est très bien décoré très agréable et très bien équipé. Nous avons passé un excellent séjour, la vue sur le canal de la chambre est un plus.Nous reviendrons avec plaisir, merci à notre hôte Evert pour son accueil et sa gentillesse.

September 2020

---

Grand week end à Amsterdam

Sejour merveilleux dans cette chambre type suite, spacieuse, décorée avec goût, avec tout ce qu'il faut pour passer un séjour en toute quiétude avec un hôte aux petits soins. Fabuleux nous recommandons cette adresse pour encore mieux apprécier Amsterdam

September 2020

---

Aufenthalt im classy room 17th C canalhouse

Hervorragend ausgestattete Unterkunft, zahlreiche hilfreiche Empfehlungen, exzellente Lage.

August 2020

---

Top plek en top host

Een fantastische appartement op een top locatie. In een woord geweldig.

June 2020

---

julie

We stayed on two separate occassions within a month. Loved the old canal house. We had a delightful room on the first floor with a fabulous view over the canal. Very spacious, no cooking facilities but a small refrig and tea and coffee making facilities, also some basic cutlery and crockery. It was very private but our accommodating host Evert ensured that he was there to take our suitcases up and down the single flight of stairs on each arrival and departure. The stair is a beautiful old curved timber stair, steep and narrow but with rails on both sides and caused us no issues. The very large room was tastefully furnished and felt very homely. It was cold outside but two panel heaters ensured the space was warm. Very comfortable bed, good bathroom. A short walk to the railway station. If you are after a "character" stay where you can soak up the atmosphere of Amsterdam I would highly recommend the first floor room in Evert's old canal house.

March 2020

---

Julie

Evert did everything to ensure our stay was very comfortable, had everything we needed. Great view of the canal.

February 2020

---

Chris A. (

United Kingdom

)

December 2019

---

Nicola H. (

United Kingdom

)

Amazing room

We had such an amazing 3 nights in Amsterdam the house is in the perfect location. The owner is so lovely and done all he could to help us. The room is perfect and is stunning. We took all our toiletries with us but we didn't need to the owner had thought of everything down to shampoo/talc/shower jel etc. Thank you

December 2019

---

Excellent location in a Canal House

We enjoyed our stay at the Classy room 17th Century Canal House. We were on the 2nd floor with a wonderful view of the Single Canal. The bed was very comfortable and the room and bathroom very spacious. Evert, our host, was very helpful and ordered a cab for us and carried our luggage up and down the steps for us as there is no elevator and the steps are circular. The canal house was within walking distance of the Anne Frank House, Centraal Station, and several excellent cafes, shops, and restaurants. There is a coffee machine as well as electric kettle, small frig, hair dryer and iron.

November 2019

---

Sarah B.

excellent choice for accommodations in Amsterdam!

The location of this apartment is perfect and the home is beautiful. It is also quite spacious, yet cozy.

October 2019

---

Excellent stay

Host Evert is really nice and thoughtful. Really loved our stay at his place.

October 2019

---

very good

warm welcome,the owner very sweet..nice place and near the center station.

October 2019

---

Luiz Mirara

Yesteday night i made the check in with a lady (maybe from Corea or China) very stupid person . I would recommend to do not have peaple like rhis without training attending customers.

September 2019

---

Nice host and beautiful place to stay!

Evert was a really nice host. The room was large and beautiful. Everything was great. Thanks a lot!

August 2019

---

Quaint and Comfortable

We loved being able to stay in the heart of Amsterdam, the variety of restaurants nearby and being able to walk to museums and galleries. The stairs are steep and narrow, typical of Dutch houses, it is part of the charm. The room is exceptionally spacious. We were greeted and made feel very welcome.

August 2019

---

Cathy F.

Such a great place!

This room is just beautiful, filled with beautiful art and books, and is in the most excellent location with views of the canal from the window. Strongly recommended!

August 2019

---

Gary B.

Surpassed our expectations

Everything that we thought we knew about Evert's apartment turned out to be true. And then some. Location. Spacious. Clean. Comfortable. Evert is a generous host with a sense for what travelers need. The apartment was so inviting and relaxing that we were torn between soaking in as much of Amsterdam as possible and just chilling in the apartment. Highly recommended!

July 2019

---

Ann A.

Historic Canal Home in a Perfect Location

How fun it was to stay in a historic canal home near City Center. Short walk from Central Station and also walkable to riverboat cruise ships. We highly recommend to travelers who want to experience "real" Amsterdam!

June 2019

---

Rachel G.

Stay at Classy room 17th Century Canal House

Evert's home is stunning. Beautifully decorated, spacious and centrally located. I highly recommend this Airbnb. I had a perfect few days and will definitely be back! Thanks, Evert!

June 2019

---

Linda G.

Classy room in 17th Century Canal House

This AirBnB is the best we've experienced. It is a real gem! Exquisite surrounds and an excellent host who responds to questions and is extremely helpful. The canal house is located very near Centraal Station, the 9 streets shopping area and a wonderful array of restaurants and cafes. We highly recommend it!!

May 2019

---

Joel H.

Parfait

Accueil parfait par l'hôte. Chambre privée, parfait pour couple sans enfant. Emplacement idéal pour visiter Amsterdam

May 2019

---

Deborah H.

Beautiful & Wonderful location, A+ Stay in Amsterdam

5+ stars - Evert's place is not only in the best location (in my opinion), but it is also so beautifully designed and decorated. Evert really has a great eye and I absolutely LOVED the apartment studio!!! It had a wonderful view from all the windows of the canal, and yet was so private and quiet at night (as opposed to a lot of other neighborhoods in Amsterdam). The surrounding area and Jordaan is absolutey beautiful and perfect for those looking for a quiet and scenic escape in Amsterdam away from all the partying and red light district craziness (which is only 10 minutes away if you want it but honestly this place is not really for you if that's the focus of your trip). There's lots of cafes, bike rentals, shopping, and very good restaurants only 5 min walking away. At the Airbnb I had all the amenities and home comforts such as tea & coffee, shampoo & fresh towels, bed slippers. Evert also left out a variety of guidebooks and tips for the area, which are always helpful! The bed is comfy and so was the desk to work from—Tons of room to relax and spread out. I do want to point out that this studio is on the 2nd floor and not for anyone who can't do stairs... however these windy tall stairs are very typical of traditional Dutch houses. That being said, it was not an issue for my stay and I even had help bringing my luggage up. Evert is a great and communicative host, highly responsive and so polite and respectful! He made sure my stay was comfortable and getting the keys was very easy. I also needed my bags stored and he accommodated me and made sure my things were safe. I was very impressed :) Thank you Evert for a wonderful experience and a perfect home away from home in Amsterdam. I'm looking forward to coming back and I hope to stay with you again! Aloha, Deborah

April 2019

---

Sibylle P.

Amazing stay at Evert's

Evert deserves more than a 5-star rating! He is such an amazing, kind and helpful host. It started right after our request when he messaged me to confirm our booking. He sent us very detailed information on how to find his flat. Since we arrived in the morning, Evert happily offered to let us leave our luggage until the official check-in time at 3 pm. Same at the check-out! About the room: Wow! It looks exactly as in the pictures. It's beyond clean and you find anything you need (Nespresso coffee, a wide range of tea, even cookies and delicious chocolate!). Evert's flat is located in the city centre which we really appreciated. Although the flat is in the heart of Amsterdam it was quiet and we felt like staying in a lovely and neat suburban area. Evert has two adorable and very curious cats. They love to be petted and I recommend you to obey ;-)! The staircase is really steep but if you are in good health it's totally manageable. I highly recommend Evert as a host and we would definitely stay at his room again!

March 2019

---
Show more